selvaggio blu - sardinia, italy
The Selvaggio Blu is all about what adventure is meant to be. Off the grid and de-connected from the modern world, we take a step back in time to re-discover some true values of life. No signs of civilisation or life, no roads, no houses - simply true nature.
From the crystal clear blue waters of the Mediterranean sea to the ever present ocer limestone cliffs towering above to the oak filled forests and scarce vegetation clinging for life above the sea. Explore untracked passages, sleep by the tranquil sea in a cove or perhaps on a hillside in a shepherds hut...
The Selvaggio Blu is a true odyssey in every sense of the word.
Course Highlights:
7 days of absolute true adventure
learn how to de-connect and get back to nature
find oneself on this epic journey above the Sardinian seaside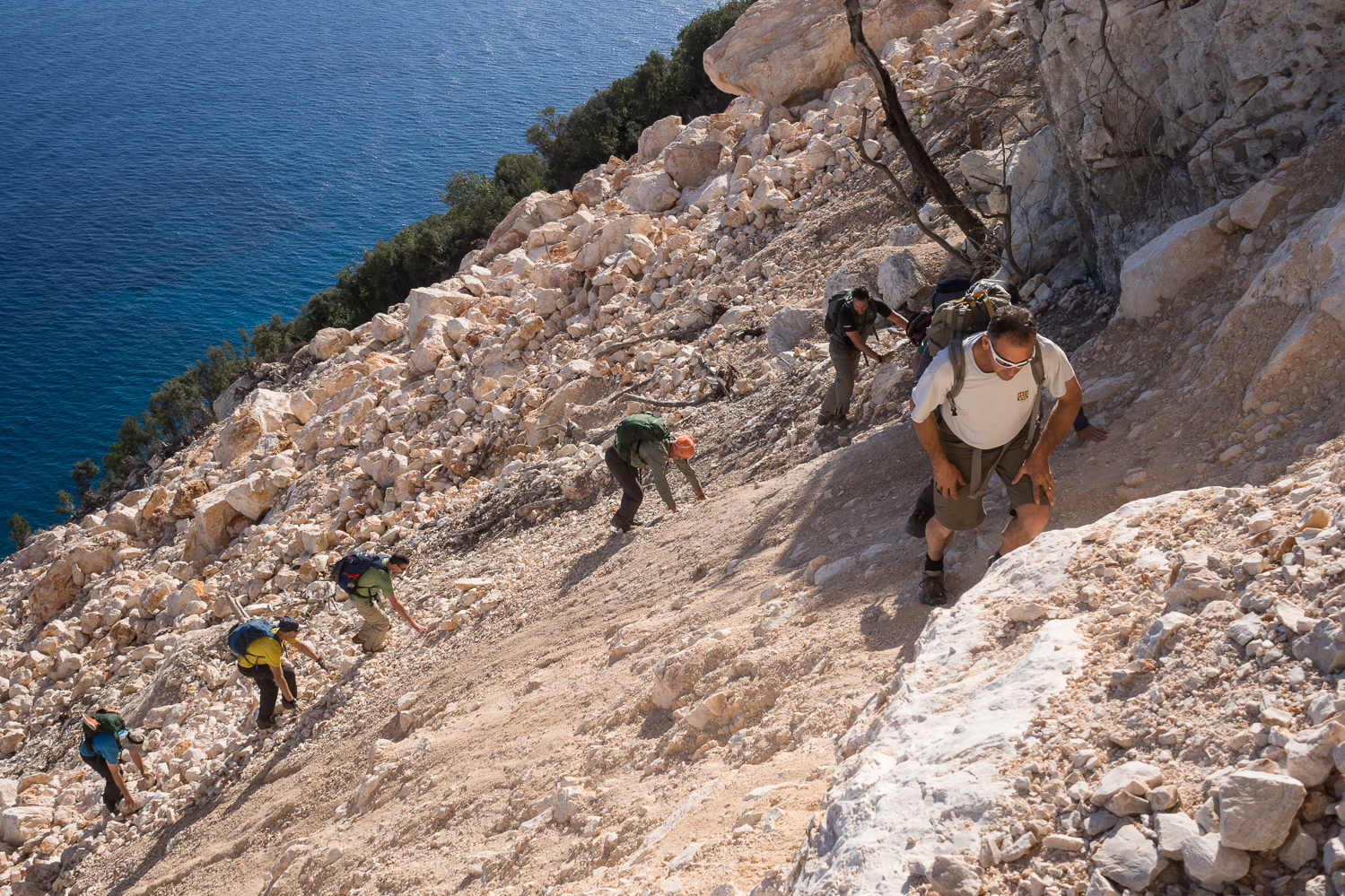 Cost Includes:
Guide fees
all meals
local logistics for supplies
group equipment
assistance for travel logistics and planning

Cost Exclusions:
Lodging when in town
travel to or from the course departure point of Cagliari, Sardinia
rescue insurance
Selvaggio Blu Typical Program
The SelvaggioBlu is often referred to ask one of the hardest walks in all of Italy. In truth - yes it is hard but this is largely due to the fact that the Selvaggio Blu takes place in one of the most unspoiled places in all of Europe. The days are long, they are hot, the nights are cool and the ground is hard. But you will be rewarded with some of the finest memories of your life.
Day 0 - EVENING WELCOME
First evening welcome drink and itinerary briefing.
Day 1
We will meet in the afternoon in Santa Maria Navarrese and check together the equipment for the trek.
Day 2
Let's go! Bacu tenadili passed with short and easy climbing, and then we'll arrive in a beautiful creek portu pedrosu from where will enjoy some great swimming and dinner. On request, I can organize a dinner with typical little Sardinian pork "porcetto sardo")
Day 3
We will transfer from Santa Maria Navarrese to Cala Goloritzè and take the trail which leads to the marvellous beach of Gloritzé. We will stay there for the afternoon and the evening.
Day 4
We will be walking from Cala Goloritzè to Bacu Mudaloru. This will take us from 6 to 7 hours. It's one of the most beautiful part of the hiking tour. We will go up the canyon of Boladina helped with the rope. We will climb a little bit (30 meters, grade 4) and enjoy amazing views with some caves. We will be staying on the beach in Bacu Mudaloru.
Day 5
We will hike from Bacu Mudaloru to Cala Biriola. This will take us around 6 hours. After few hours, we will arrive at Danno, a particular and tight path in the rocks called Sa Nurca. After that we will have 3 abseiling passages before crossing the beautiful Biriola forest and arriving on the beach.
Day 6
We will hike from Cala Biriola to Cala Sisine. We will be walking in the forest of Biriola and Orronnoro. Some short climbing (10 meters, grade 4) will be required. We will end up in Cala Sisine for a last swim before going back to Santa Maria Navarrese with the boat.
Day 7
End of the adventure and flight back home.
Length:
7 days, 6 nights
2018 COURSE DATES
April 7-13
October 13-19
This course is also available on a custom basis from the beginning of October through the end of November. You can custom choose your dates. Please inquire for availability.
Required Level:
Good base fitness – prior hill walking experience is greatly appreciated but not absolutely necessary.
Average length of the day is 6h of moving time and expect a very warm, dry climate.
Group Size:
Maximum group size is 6 : 1
Technical Level:
1 out of 5
Fitness Level:
3 out of 5
995 € /pp based on a minimum group of 4
1,595 € /pp for a private group of 2 (such a couple)
Group Size:
Maximum group size is 6 : 1
Course Base:
Santa Maria Navarrese, Sardinia
Local Airport:
Cagliari, Sardinia
Here is what you will typically have in your pack when going to a hut and or climbing
CLOTHING
Gore-Tex (or similar breathable hardshell clothing) Jacket and pants
Gaiters
Lightweight softshell climbing pants
Lightweight thermal top (polypro, smartwool or capilene)
Fleece or synthetic insulation jacket
Warm ski gloves w/ leather palms if possible and a shell over-mitt
Spare pair of lightweight spring gloves or wool liners
Warm hat or balaclava
Baseball cap (for the sun)
2 pairs of socks
Glacier glasses or Cat 4 sunglasses
GEAR
Harness * w/ 2 locking carabiners and a belaying device
2 prussik loops
1 long sling
ice axe * typically anything over 60cm is too long
Crampons * w/ anti- balling plates
Mountaineering boots *. Leather is the preferred choice. Make certain your crampons work on them !
helmet
Rock shoes *
A small rucksack 30-35l (2000c.i.) is plenty big enough
Headlamp with new batteries
Telescopic poles - help take a load off you legs and back
Small compact camera, GoPro or just simply your camera phone (avoid bringing along a heavy DSLR)
Personal first aid kit (second skin, aspirin, toilet articles)
Sun block and lip cream
Water bottle 1 liter minimum - I prefer metallic bottles
sleeping bag liner for the huts
(items with * can be rented in most alpine areas such as Chamonix or Zermatt)
To book this course - just hit the book now button