MTB
E-bike Tour of Mont Blanc
Bikes are awesome - any and all types. And the new generation of E-bikes mean that a whole new wave of people will be getting out and riding. It also means that even the hard core types will be able to explore more and go deeper. For me it's all good.
E-bikes will shape our future just like the way electric cars are starting to replace the combustion engine. It's an form of transportation, they allow the entire family to enjoy a fun activity together, reaching amazing spots, all getting in touch with nature!
So onward - no debating here at Nosiesta Guiding we are onboard already and don't worry if you don't have an E-bike - I work with shops in every destination that can get you hooked up with a rental bike.
E-bikes are not going to be the next revolution - they are already here making the entire journey a memorable one.
Course Highlights:
The Tour of Mont Blanc is the uber classic walking trail but with E-bikes it will become much more than that
Three country trip that has some of the best views of the entire Alps
Full international flavor and cultural immersion
Biking is one of the absolute best ways to see more of the cool spots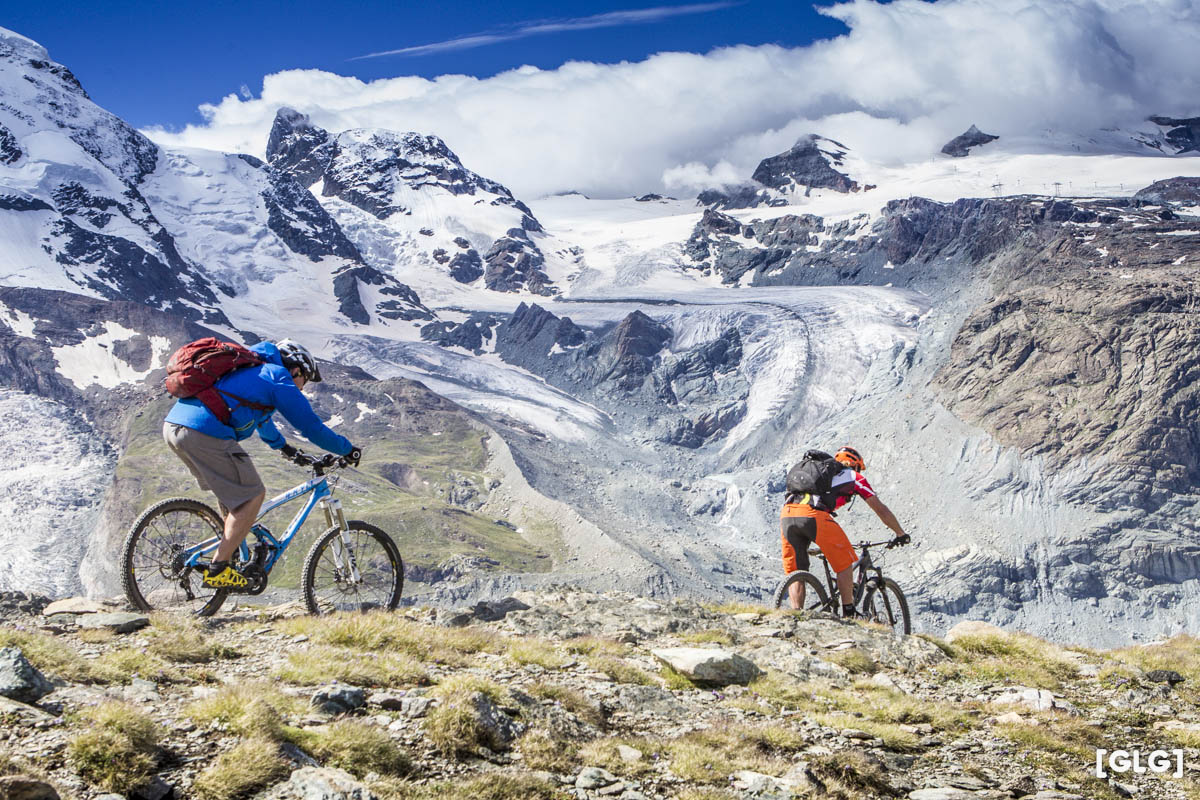 Five nights in hotels in standard rooms half board - dinner/breakfast
Van shuttles for all the transfers with a designated driver for your luggage
Professional MTB Guide for the entire tour
Lift tickets as needed
What's Not Included
Mandatory Gear:
30L Backpack
Knee pads and elbow pads
Helmet
Small personal repair kit/tools
Not Included, but available upon request:
Bike Rentals, all the necessary Technical Gear
Day 1
Buffet breakfast meeting in Chamonix and we'll head off directly using some gentle uphill flow trails to Argentiere. Once here things get slightly more interesting - we'll ride up past the lifts - cause we can - to the summit of the ski resort of Le Tour and then enjoy a break and the stellar views before dropping down into the fabled Swiss village of Trient.
From here have a short uphill to the summit of the Forclaz pass and then head deep into the woods and forests where things get a little gnarly in places but not to worry as the trails smooth out soon enough and we hit some better trails that lead us down into La Poya and finally Champex le Lac for the well earned apres bike beverage and the evening stop.
Total Distance: 42km
Climb: 2150m
Descent: 2050m
Day 2
A good Swiss style breakfast and we're off - first with a nice flowy downhill section to hit Praz de Fort and from here it is gentle up and down on fire roads to the charming Swiss village of La Fouly. Here you will find time kind of stands still and the peace and quiet of this section of Switzerland is simply perfect. Night in La Fouly.
Total Distance: 40km
Climb: 1850m
Descent: 1550m
Day 3
A big breakfast will be needed today as we head up gentle trails past the little hamlet of Ferret and then the ever steeper climb to reach the summit of the Tete de Ferret peak which is the border of Italy. Following a short break - and possible second breakfast - we'll have a great technical ride down to have an official stop at the Bonatti for a proper lunch.
From here we have a great balcony ride that continuously goes up and down - great to have the E-bikes here! Once we have finally reached the end of this long spine like ridge we arrive at the Bertone hut - which affords incredible views of the entire Italian side of the Mont Blanc massif.
What's left is all downhill into the perfect alpine resort of Courmayeur. Night and fun evening spent exploring all this nooks and crannies this village has to offer.
Total Distance: 35km
Climb: 1550m
Descent: 1850m
Day 4
OK, here we have reached our half way point - now is where these E-bikes will come in real handy. From Courmayeur, we have a long pedal up through the Val Veny to the to reach the Col de la Seigne. This marks the border between Italy and France and in fact one of the oldest passes in the Alps - Hannibal actually crossed it !
Following our pit stop we head down a series of moderate trails to the village of les Mottets and then les Chapieux where we will stop for a late lunch. We'll need the power because we still have quite a stretch in front of us, first we ride past the massive dam and continue with the descent into the village of Beaufort for the evening.
Total Distance: 46km
Climb: 1900m
Descent: 1500m
Day 5
Here comes another big day for the books - the morning starts off by climbing back up towards the Gittaz lake and a crest which will be a real struggle even with the E-bikes to ride. Following a short pause we have an awesome singletrack descent into Notre Dame de la Gorge and finally reach our destination of les Contamines for the evening.
Total Distance: 33km
Climb: 1200m
Descent: 1600m
Day 6
OK one last day to complete our tour - we get started with the long climb out of town to reach the steep ascent of Mont Truc before an epic descent and equally epic ascent to our final uphill challenge the col de Voza. From here you can spot our final destination - Chamonix. We'll enjoy the cool singletracks of les Houches ski slopes and finally the valley floor and a mix of dirt and pavement back into Cham where it all started to celebrate in style !
Total Distance: 46km
Climb: 1900m
Descent: 1500m

* Actual course details and climbs may vary depending on conditions and or participants level.
This course is available on a weekly basis from the beginning of July through the end of September. You can custom choose your dates. Please inquire for availability.
Length:
6 days, 5 nights
Technical Level:
3 out of 5
Fitness Level:
5 out of 5
1,299 € / person
This price is for groups of 4 people or more. For groups under 4 people contact info@nosiesta.com
Course Base:
Chamonix, France
Local Airport:
Geneva Intl Airport, Switzerland - GVA
Your personal clothing will be carried around to each nights destination in a medium sized duffel type bag
Gore-Tex (or similar) top and bottom - bike specific if possible
Lightweight thermal top (polypro, smartwool or capilene).
Puffy jacket
Lightweight spring gloves
Warm hat
Headlamp w/ a new battery.
Small compact camera or GoPro
Personal first aid kit (second skin, aspirin, toilet articles).
Sun block and lip cream.