CLIMBING THE MATTERHORN - ZERMATT, SWITZERLAND 4,478M
The Matterhorn is considered by many people to be one of the world's most beautiful summits. The Matterhorn is certainly the world's most photographed and easily recognised mountain. It is the goal of many mountaineers and one that is certainly worthy of such fame.
There is a large number people who attempt the Matterhorn each summer season and there is an equally large number that fail. This is usually due to inadequate preparation.
The best way to prepare for climbing the Matterhorn is by spending the week doing similar climbs. This will not only help you acclimatise, but also improve your general level of competence and skills in mountaineering. My 7 day program allows for specific preparation on shorter routes of the same nature to better optimise your chance for success and is based in Chamonix.
The entire course is run on a 1:1 private ratio and this is in my opinion, the best way to prepare for a technical ascent such as that of the Matterhorn.
*The Hornli Hutte has re-opened after vast renovations. It is now an incredible place to stay. This means that if you are tempted by an ascent of the Matterhorn – you better book with me early, it's can be a busy place...
Course Highlights:
7 days - optimised time to practice with the equipment AND acclimate by summitting a 4000m peak beforehand - essential for success.
Reserved Huts - Any pre-booked course guarantees that you have your space in the huts.
Climbing the entire week with the guide you will attempt the Matterhorn with.
Tried and tested program – practice makes perfect and only by training in similar conditions will you become comfortable and therefore improve your technique. The entire weeks focus has this in mind.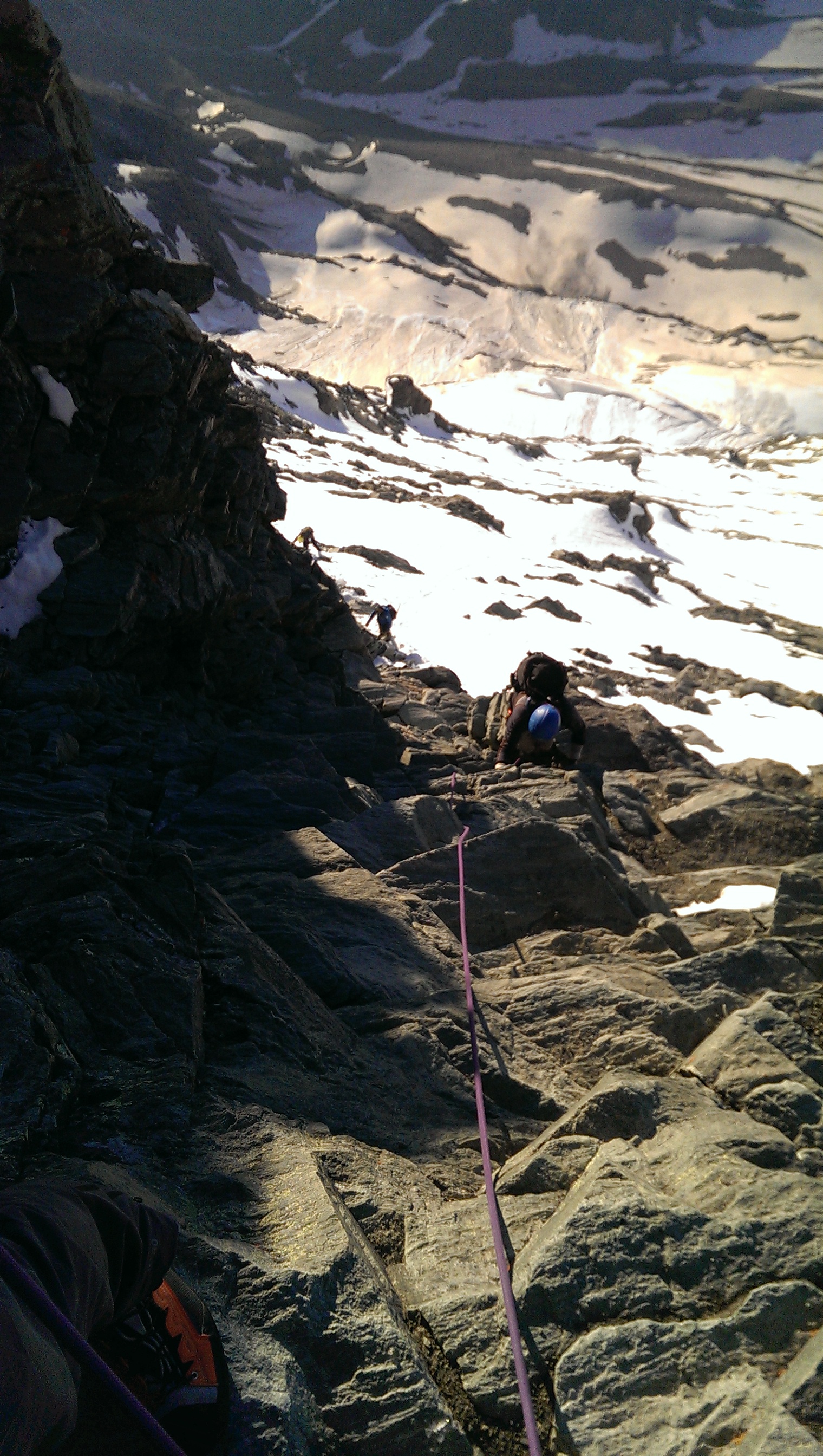 Cost Includes:
Guide fees
huts and half board when in the huts with breakfast and dinner
local transportation included during the entire course
hut reservations
group equipment
assistance for travel logistics and planning

Cost Exclusions:
Lodging when in town - typically 4 nights
drinks and lift fees for you and the guide
lunches
personal equipment
travel to or from the course departure point of Chamonix or Zermatt
rescue insurance
if you opt for the entire course to be held in Zermatt, there is an additional fee of 500e
CLIMBING THE MATTERHORN COURSE DETAILS
Climbing the Matterhorn is a relatively difficult task given that as a team we need to constantly move together all the time. To do this we use a technique called short roping. This means we progress together and use a running belay where needed/possible. The climbing on the Matterhorn is steep and exposed in places and it is very helpful to have a bit of experience with this – especially on the descent as you need to "face out" when heading down to see where to go. In addition to using training climbs for acclimation we will practice on climbs very similar to the Matterhorn during the week to help you get accustomed to these techniques. This part of my course is essential in your bid for success.
Typical 7 Day Matterhorn Program
Day 0 - Evening meeting
Welcome drink and evening brief of the course, weather forecast and gear check.
Day 1 – Altitude training
Today will be your first experience with the high mountains and we get underway with a tram ride to the top of Aiguille du Midi lift station. From the top, we follow a narrow ridge down to the vast glacial plateau. Here we will discuss several topics of concern when travelling on glaciers and practice using our crampons and ice axe. The days journey will most likely see us traverse the "vallee blanche" to reach the Italian border. From here an incredible cable car brings us back to the Aig du Midi and finally Chamonix. Night in Chamonix.
Day 2 – Aiguille d'Entreves
Another tram ride today as we take the Funivia Monte Bianco and head out onto the glacier for a stunning ascent up to the Aiguile d"Entreves. This peak offers a stunning thin ridge line and spectacular views to the impressive south side of Mont Blanc. We will spend our evening at the newly refurbished Torino hut.
Day 3 – Dent du Geant
This peak reaching just over 4,000m is a perfect training climb for the Matterhorn. The ascent and altitude make it the ideal test prior to the Matterhorn. The start is early and we cross the a vast glacier to reach some easy mixed ground that takes us to the "salle a manger" located at the very foot of the Dent du Geant. From here the climbing gets more technical and heads up some steep granite, some stretches offering a fixed for help. Once we have reached the summit, we have a series of steep rappels that bring us back down to the base of this tooth. We then backtrack our steps to the hut and lift and drive back to Chamonix. Evening in Chamonix.
Day 4 – Training climb in Chamonix
Do a short climb such as the Aiguille de l'M or the Cosmiques Arete. Which climb will depend upon which skills you need to work on most. We will spend time talking about the following days ascent and do any last minute preparations needed that afternoon in town. The idea is to have a short day to and be fresh for the Matterhorn.
Evening in Chamonix.
Day 5 – Hornli Hutte
Following a morning transfer to the car-free village of Zermatt, we will make the first part of the ascent to Schwarzee via the comfort of the high speed gondola in the early afternoon. We then hike for 2h to the newly renovated Hornli Hutte for your first close up view of the mountain. An early afternoon arrival allows us to make a quick visit to the base of the ridge to allow you a hands on feel for the ascent early the following morning. An early dinner and a quick night's rest follows.
Day 6 – Matterhorn summit
The day gets off with the usual chaotic start for a 4am breakfast and rush out the door. The ascent starts all too quickly but we soon settle into a rhythm following the ridge line until just before we reach the Solvay emergency shelter where the climbing gets a bit steeper and harder. After a typical quick break at the shelter, we are off to reach the shoulder and the fixed ropes that allow access to the final snow covered slope and finally the summit. But it's not time to claim success just yet as the descent will require as much time and effort to return to the Hornli Hutte as the ascent. Only once we have reached the safety of the hut can we properly celebrate with the beverage of your choice!
Late afternoon return to Chamonix.
Day 7 - Extra weather day or additional climb
This day is designed to be used as a buffer in the event we encounter unstable weather during the course - we have the option to use this for an extra climb should all go to plan - and you still have the energy for more adventure!
* Actual course details and climbs may vary depending on conditions and or participants level.
** This course can also be based out of Zermatt. In this case we will use different peaks to train in such as the Riffelhorn, Pollux, Castor, Breithorn...
Additional fee of 500e
Length:
7 days, 6 nights
2018 COURSE DATES
June 30-6 July
July 7-13
July 21-27
Aug 4-10
Aug 18-24
Sep 1-7
Sep 15-21
This course is also available on a custom basis from the beginning of June through the end of September. You can custom choose your dates. Please inquire for availability.
*Please note that I do not add an extra "fluff" days before or after. I consider that to be false advertising. My program is 7 actual days of activity.
Required Level:
Excellent base fitness – prior experience is very helpful but not absolutely necessary.
Please do not under-estimate the nature of the course. This is full on mountaineering and not a simple walk up a hill. There are some minimum standards that have to be met, such as uphill per hour and being successful on the training peaks.
Climbing Grade:
AD - grade 4
Some moderate to steep snow, mixed terrain and exposed climbing on rock.
Technical Level:
3 out of 5
Fitness Level:
4 out of 5
3,995 € private arrangement
Group Size:
Maximum group size is 1 : 1 - the entire course is run on a private basis.
For the ascent of the Matterhorn the max ratio is 1:1.
If more than 1 participant (friends, significant other) signs up at the same time, each group will climb with their own guide the entire week.
*This is a super important detail that pays dividends when on the Matterhorn - you want to know your guide just as much as your guide wants to know you! Meeting your guide the day before an ascent is far from ideal. I don't believe in courses where the climber to guide ratio is different than that of the actual ascent. This is how "guide companies" become greedy....at your personal expense.
Course Base:
Chamonix, France
This course can also be based out of Zermatt, Switzerland.
Local Airport:
Geneva Intl Airport, Switzerland - GVA
Here is what you will typically have in your pack when going to a hut and or climbing
CLOTHING
Gore-Tex (or similar breathable hardshell clothing) Jacket and pants
Gaiters
Lightweight softshell climbing pants
Lightweight thermal top (polypro, smartwool or capilene)
Fleece or synthetic insulation jacket
Warm ski gloves w/ leather palms if possible and a shell over-mitt
Spare pair of lightweight spring gloves or wool liners
Warm hat or balaclava
Baseball cap (for the sun)
2 pairs of socks
Glacier glasses or Cat 4 sunglasses
GEAR
Harness * w/ 2 locking carabiners and a belaying device
2 prussik loops
1 long sling
ice axe * typically anything over 60cm is too long
Crampons * w/ anti- balling plates
Mountaineering boots *. Leather is the preferred choice. Make certain your crampons work on them !
helmet
Rock shoes *
A small rucksack 30-35l (2000c.i.) is plenty big enough
Headlamp with new batteries
Telescopic poles - help take a load off you legs and back
Small compact camera, GoPro or just simply your camera phone (avoid bringing along a heavy DSLR)
Personal first aid kit (second skin, aspirin, toilet articles)
Sun block and lip cream
Water bottle 1 liter minimum - I prefer metallic bottles
sleeping bag liner for the huts
(items with * can be rented in most alpine areas such as Chamonix or Zermatt)
To book this course - just hit the book now button