Into the Alpine - French - Swiss Alps
Over the past 20 odd years as a professional UIAGM/IFMGA mountain guide I have run many successful introductory alpine courses, introducing dozens of people to the joys and beauty of the high mountains. I have decided to add my own personalised programs to those with limited time but with big ambitions. I have a 5 day program available for those aspiring alpinists who are eager to learn how to get into the mountains on their own.
My programs fully reflect a learning by doing teaching method which allows each participant to get a taste for making decisions and putting what they are taught into play under my personal supervision.
Focus : learn the basic skills to allow for an independent excursion into the mountains.
Essential climbing knots and how to correctly tie into the rope

Glacier travel and crevasse rescue

Introduction to rock climbing

Use of crampons and ice axe on snow and ice

Belaying on different mediums - rock, snow and ice

Navigation and interpretation of maps, weather forecasts

Route preparation and huts
Course Highlights:
5 days of mountain classroom training and climbing with hut nights
all group equipment is provided
Becoming self-sufficient in the mountains by the end of the course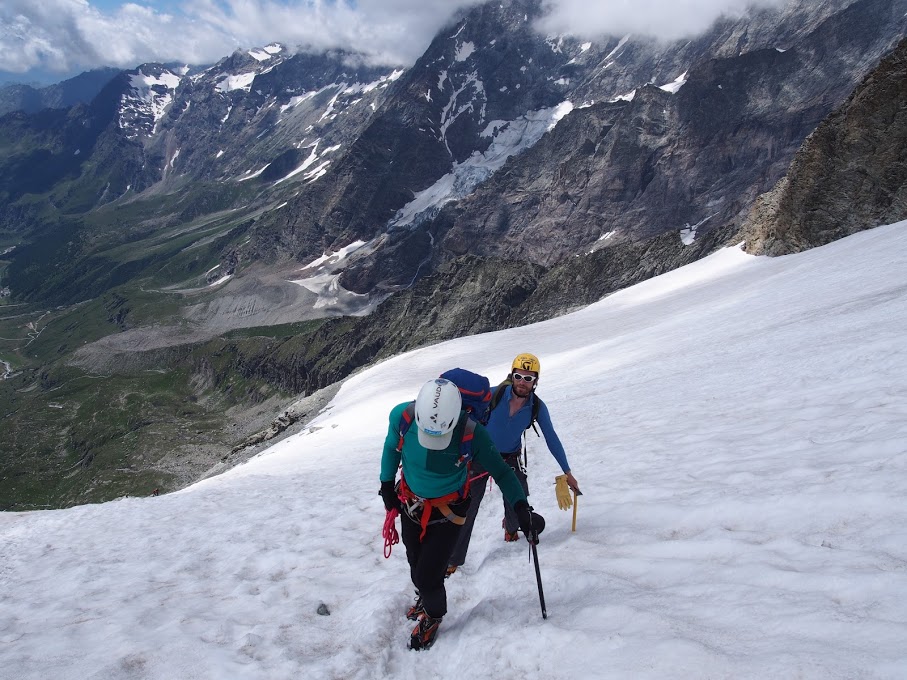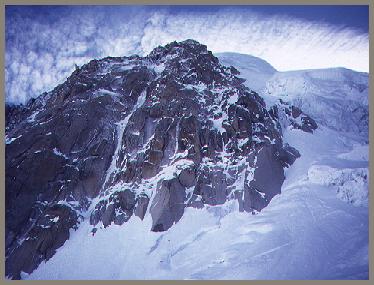 Cost Includes:
Guide fees
huts and half board when in the huts with breakfast and dinner
local transportation included during the entire course
hut reservations
group equipment
assistance for travel logistics and planning

Cost Exclusions:
Lodging when in town
drinks and lift fees for you and the guide
lunches
personal equipment
travel to or from the course departure point of Chamonix
rescue insurance
This is a great way to get acquainted with the mountains and how to use technical gear. Each night will be spent in mountain huts so you are guaranteed to get full value while here in the mountains. This gives you plenty of time to discuss and put into practice new skills such on snow fields, glaciers and rock - all the mediums found in the high alpine. A an appropriate amount of time will also be spent learning about glacier travel, navigation, route planning and selection as well. The main goal of this course is that participants can come away with sufficient skills to start mountaineering under their own steam.
Typical 5 day Program
Day 0 - Evening meeting in Chamonix, France to discuss logistics and the week that lies ahead.
Day 1 - Albert 1er hut - Glacier du Tour
The course gets underway with a quick list ride to reach the Col de Balme and from here we hike to the Albert 1er hut - our first hut of the week. After a lunch break, we spend the afternoon venturing onto the Glacier du Tour. Here we will practice how to walk using crampons, using an ice axe and about different rope techniques as we explore the numerous caverns and crevasses found here. Evening at the Albert 1er hut.
Day 2 - Cabane d'Orny
The day starts off early - with your first alpine start. We head up the Tour Glacier to reach a steep pass that allows access to the vast Trient Glacier. The views are majestical from here as we head off across the glacier, past the Trient hut to reach the Cabane d'Orny - or Orny hut.
In the afternoon, you will become familair with a different medium - rock climbing. You will learn about different knots, how to belay, abseil and move with balance up the steep rock walls. All the while admiring the stunning views of the glaciers and surrouning peaks. Early evening route preparation for the following day's ascent.
Night at the Cabane d'Orny.
Day 3 - Aiguille de la Cabane
Today will be a fairly casual start as since today we are climbing rock - one of the stunning spires that lies behind the hut is named after the Cabane or hut itself. Our goal of the day is to reach the summit of the Aiguille de la Cabane by one of the stellar routes all of which are on immaculate granite rock. In the afternoon, we head up the moraine and scree slopes to reach the Cabane de Trient our new base camp for the evening.
Night at the Cabane de Trient.
Day 4 - Aiguille du Tour
This will be your first real alpine start of the week and following a short breakfast, we will head out onto the Orny glacier and travel towards the French border to reach our destination of the Aiguille du Tour. This interesting climb includes some snow and finally rock to reach it's summit block where the 360 degree views are amazing. We will be able to learn and put into practice glacier related skills and navigation. The return is via the Trient glacier back to the Trient hut.
Night at the Cabane de Trient.
Day 5 - Tete Blanche
Today brings us more alpine fun with the final traverse across the Trient Glacier and plateau to reach the base of the Tete Blanche. The Tete Blanche offers a steep yet straightforward snow climb where we will put into practice our snow skills. The descent is via the Tour Glacier and finally back into the village of le Tour.
Late afternoon celebrations in town with course debriefing before returning home.
* Actual course details and climbs may vary depending on conditions and or participants level.
Length:
5 days, 4 nights
2018 COURSE DATES
June 11-15
June 25-29
July 9-13
July 23-27
Sep 3-7
Sep 17-21
This course is also available on a custom basis from the beginning of June through the end of September. You can custom choose your dates. Please inquire for availability.
*Please note that I do not add an extra "fluff" days before or after. I consider that to be false advertising. My program is 5 actual days of activity.
Required Level:
Good base fitness – prior experience is not necessary.
Climbing Grade:
F - AD - grade 3
Easy to moderate snow, mixed terrain and rock.
Technical Level:
2 out of 5
Fitness Level:
3 out of 5
1,595 € /pp with a minimum of 2 guests
2,295 € with private arrangement
Group Size:
Maximum group size is 4 : 1
Course Base:
Chamonix, France
Local Airport:
Geneva Intl Airport, Switzerland - GVA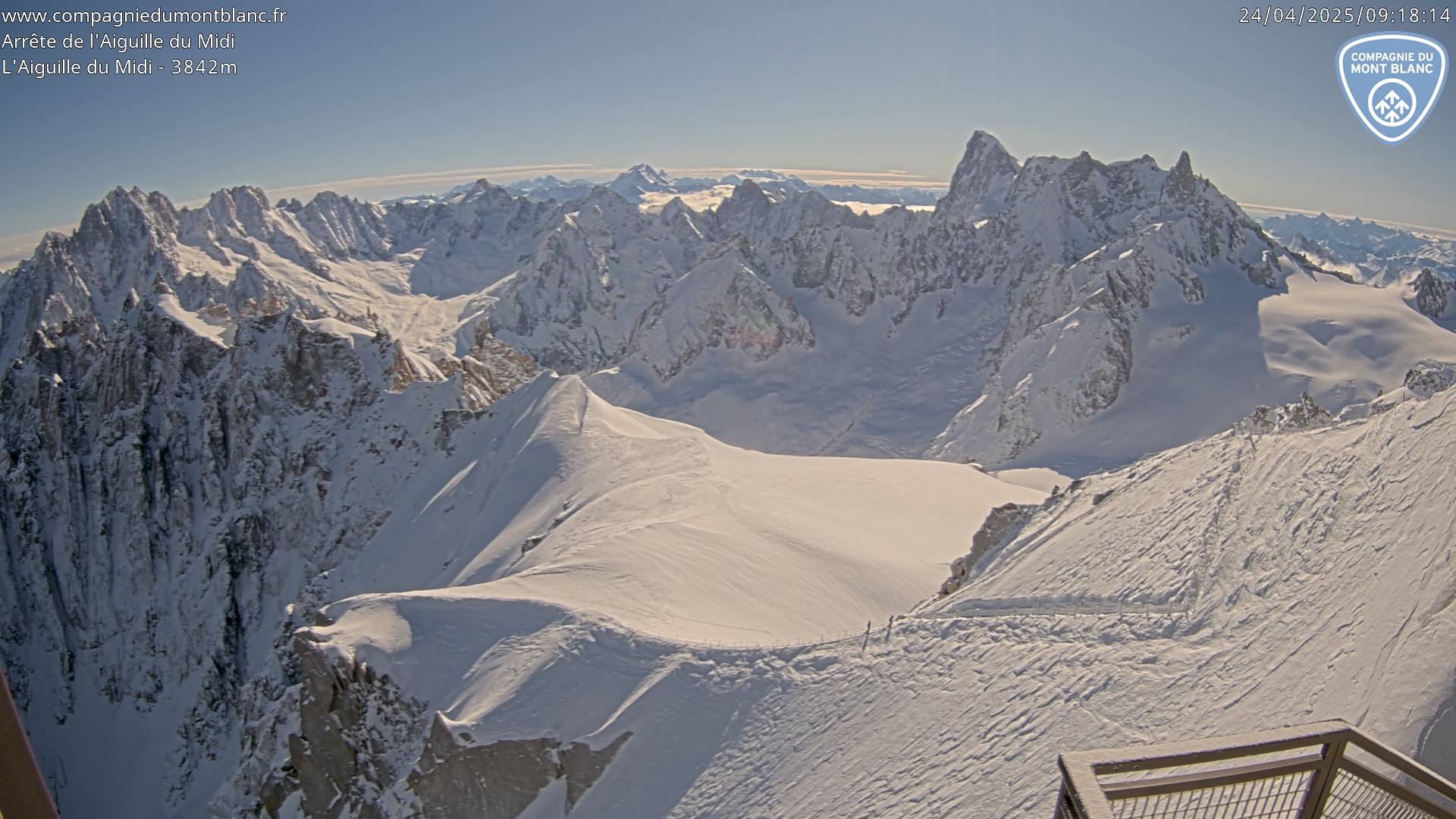 Here is what you will typically have in your pack when going to a hut and or climbing
CLOTHING
Gore-Tex (or similar breathable hardshell clothing) Jacket and pants
Gaiters
Lightweight softshell climbing pants
Lightweight thermal top (polypro, smartwool or capilene)
Fleece or synthetic insulation jacket
Warm ski gloves w/ leather palms if possible and a shell over-mitt
Spare pair of lightweight spring gloves or wool liners
Warm hat or balaclava
Baseball cap (for the sun)
2 pairs of socks
Glacier glasses or Cat 4 sunglasses
GEAR
Harness * w/ 2 locking carabiners and a belaying device
2 prussik loops
1 long sling
ice axe * typically anything over 60cm is too long
Crampons * w/ anti- balling plates
Mountaineering boots *. Leather is the preferred choice. Make certain your crampons work on them !
helmet
Rock shoes *
A small rucksack 30-35l (2000c.i.) is plenty big enough
Headlamp with new batteries
Telescopic poles - help take a load off you legs and back
Small compact camera, GoPro or just simply your camera phone (avoid bringing along a heavy DSLR)
Personal first aid kit (second skin, aspirin, toilet articles)
Sun block and lip cream
Water bottle 1 liter minimum - I prefer metallic bottles
sleeping bag liner for the huts
(items with * can be rented in most alpine areas such as Chamonix or Zermatt)
To book this course - just hit the book now button